Comparison of Family Benefits in 22 EU Countries
Comparison of Family Benefits in 22 EU Countries
This study examines the question of how the amount and type of expenditure in 22 EU countries have changed over the last two decades. The aim is to show how Austria is positioned in this comparison and which developments are emerging here in the years 2018 to 2021. The results show a trend in Austria towards more expenditure on benefits in kind and tax support, and thus a shift away from monetary transfers, which are still clearly predominant.
Working Paper 98 (PDF)
Corona and the Development of Romantic Relationships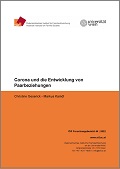 Corona and the Development of Romantic Relationships
A new OIF study analyses the Corona crisis from the perspective of partnership biographies: How did couples and singles experience the first year of the pandemic? What new habits, but also conflicts, have emerged? And were there really "lockdown babies" or higher divorce rates? The analysis is based on the data of the Austrian Corona Panel Project (ACPP) with 21 survey waves as well as our own online survey with 772 study participants, who look at year 1 of the crisis retrospectively.
Forschungsbericht 44 (PDF)
Grey Divorce in Austria
Grey Divorce in Austria
Grey Divorce is a growing phenomenon in the Western world and also in Austria. The aim of the present study is to shed light for the first time on the topic of divorce among people aged 50+ in Austria. For this purpose, a literature review was conducted, the development of divorces in recent decades was analysed on the basis of administrative data, and a qualitative study was conducted on the basis of biographical narrative interviews with divorced men and women.
Forschungsbericht 43 (PDF)
Focus on Youth 2022
Focus on Youth 2022
For those working in the fields of youth policy and youth work, the publication "Focus on Youth" offers thorougly prepared figures that present the situation of youth in Austria and make trends visible. Youth relevant key data on population statistics, migration, education and training, internet use, the world of work as well as health and living conditions are summarised in this booklet.
Fokus Jugend 2022 (PDF)