Main Areas of Research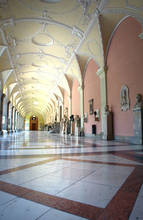 Main Areas of Research
Families are part of a network of many interconnected areas of life: The world of work, private and public environments, media, religions and world views, politics, etc. These areas influence each other and interact. The resulting special circumstances of family research mean that the OIF is committed to the approach of interdisciplinarity. This approach enables a broad and differentiated coverage of family aspects from various scientific perspectives and is a special feature of the institute's scientific work.
Methods
The OIF conducts both basic and applied research, using qualitative and quantitative research methods. In order to be socially and politically effective, the institute is dedicated to diagnosis, evaluation, model development, forecasting and networking with other research institutions.

Follow-up studies: Collection of longitudinal data to complement the primarily existing cross-sectional data on the topic of family.
Implementation and dissemination of research results: Research only makes a difference if it is made known to the public, e.g. through model development, social reporting, information dissemination, education and training.
Networking of family experts: Networking of people who work for families in a wide variety of areas through information work, publications and events.
Feasibility studies/simulation models: An accurate family policy needs a sound basis for decision-making through feasibility studies and simulation models.
Family Impact Analysis/Evaluation Studies: Accompanying studies help in understanding social processes and ask about the accuracy of measures.
Family Science Counselling
Public Relations – Networking – Policy Advice
In addition to research and development, the dialogue with science, practice, politics, business and the media is a major concern of the Austrian Institute for Family Studies. A particular challenge is the implementation of science in practice.

For networking and data provision, the OIF is a partner in the following networks >>